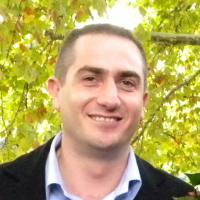 Telephone:
+39 050 3152039
Address:
Consiglio Nazionale delle Ricerche (CNR) Area della Ricerca CNR di Pisa Via G. Moruzzi 1 56124 PISA - Italy
I'm a researcher at Networked Multimedia Information Systems (NMIS) Laboratory of the Italian National Research Council - Institute of Information Science and Technologies (CNR - ISTI). I graduated in Computer Science in 2001 at University of Pisa and completed a PhD in Information Engineering in 2006 at University of Pisa.
In 2001 I joined the NMIS Laboratory and was involved in various EU-funded projects including CYCLADES, Open Archives Forum, DILIGENT, DRIVER, DELOS, D4Science, D4Science-II, DL.org, EUBrazilOpenBio, iMarine and ENVRI. I was a member of the DELOS Reference Model Technical Committee and of the OAI-ORE Liaison Group.
I'm currently involved in the iMarine and EUBrazilOpenBio projects.
My research interests include Digital Library [Management] Systems and Architectures, Digital Libraries Models, Distributed Information Retrieval, and Grid Computing.